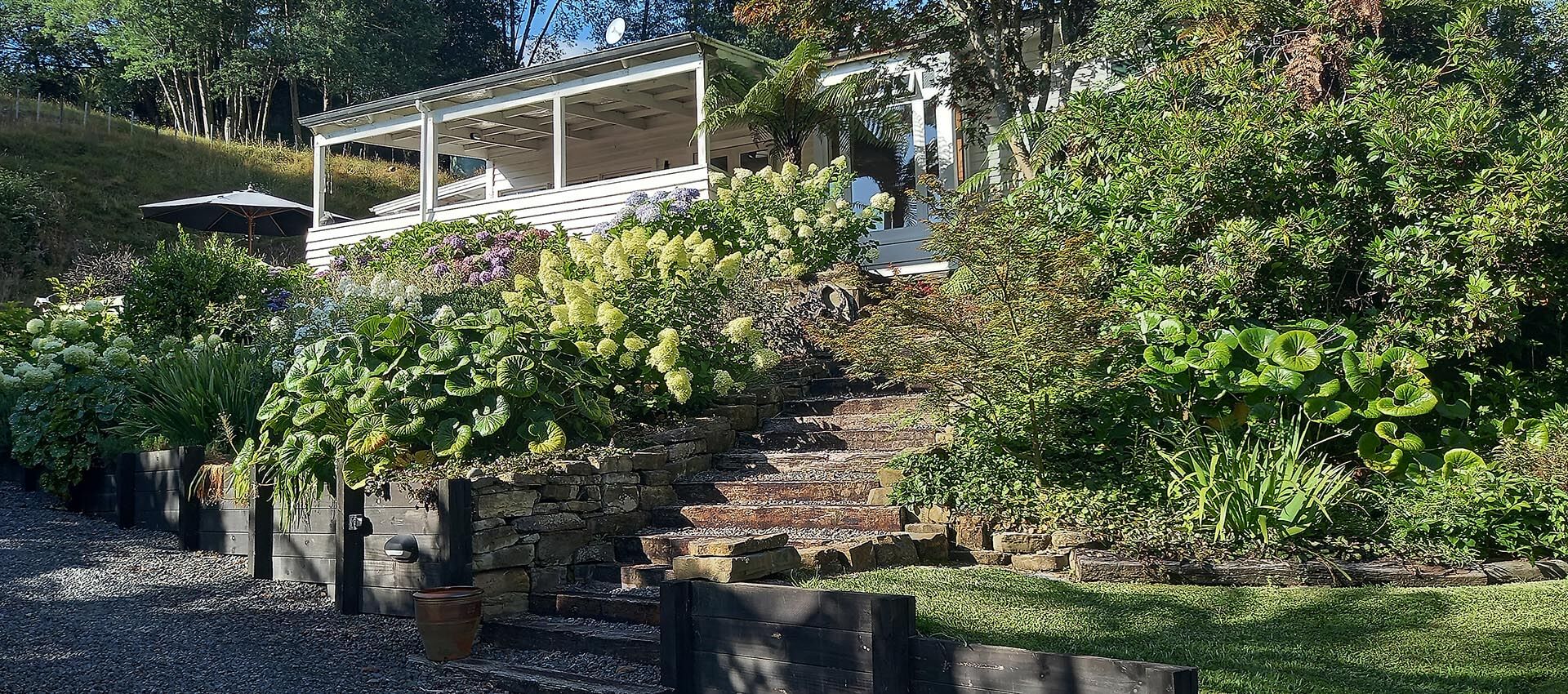 elle@elleanderson.co.nz | 021 044 2057
To Whenua is located about 7 km from Taumarunui down on the Forgotten Highway. The property has been the home of Elle & John Anderson since 2016. The house and gardens are situated alongside the Whanganui River, and they offer special views across the paddocks to the river and bluff beyond.
To Whenua is approximately 14 acres of land on which Elle & John run dry stock, grow their own vegetables, have a large chicken run and supply all their own firewood. They run the property as sustainably as possible while following many organic principles. For them the garden is as much part of the wider landscape it sits in.
The house is over 100 years old and has seen many additions & alterations since it was built. The garden and wider property have also seen many changes and improvements since then. One of the biggest is that only jet boats go past now and no more river boats. The house in its early days was serviced with goods via the river, until a decent road link was established to Taumarunui.
A gardener, landscape designer and artist, Elle and her very supportive husband John have spent the years since owning it, reimagining the many previous owner's long abandoned garden and wider areas around the house. The garden presented them with many challenges and pesky weeds (such as Wandering Jew, Convolvulus, Montbretia, Oxalis) to eradicate along the way. This has meant the replanting is being done slowly, to ensure these weeds are eradicated to stop future tears and frustrations.
During the renovations of the garden, several great features were discovered, and these have been given a new lease on life while adding other interesting features.
The garden is made up of several intimate spaces, from a bog garden to a Hosta garden that are linked through walkways and private spaces in which to enjoy the sun or the gorgeous views to the Whanganui River.
It is bordered by a stream across which several large purple and green beech trees can be seen. These trees appear to be from a vintage that is similar to the age of the house.
The garden is a mix of native and exotic plants, such as tree ferns, Hydrangeas, Rhododendrons and many fruit trees just to name a few. The garden provides the Andersons with their yearly fruit for bottling or jam making.
There is a second stream that runs through the property and also the rapid in the river bend which inspired the naming of the property. The spelling of these can be found to differ, depending on which book or author you read. 'To Whenua' means return to the land.
To Whenua offers artist studio & garden tours by arrangement only. To make an appointment; email or call us for more details.