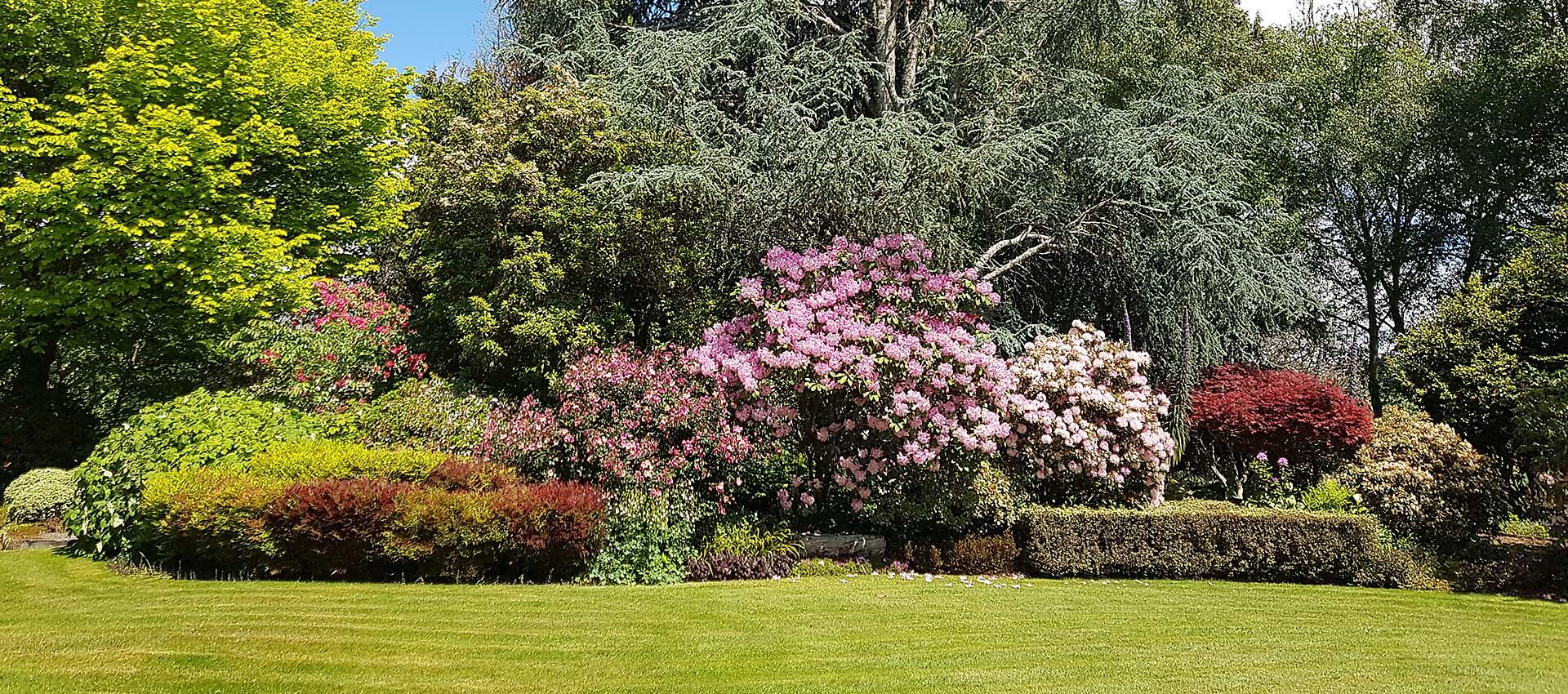 Omaka Lodge – www.omakalodge.nz | 07 974-8543 | contact@omakalodge.nz
Omaka Lodge is set on over 10 acres of land and is the home of Scott McPherson & Chris Riches. Several acres are fields for our sheep, but we have over 3 acres of stunningly beautiful landscaped gardens that have featured in NZ House & Garden magazine. A taste of what to expect is introduced by 50Liquidambar trees lining the 300-metre sealed driveway.
The garden consists of a variety of different areas, including The Champagne Lawn, The Water Garden, The Wedding Garden, The Dell, The Woodland, and The Secret Garden. There are plenty more parts of the garden; all areas have their own unique character.
A substantial number of large mature trees surround the main house, providing a structural backdrop to the gardens. Numerous varieties of Rhododendron, Camellia, Azalea and Maple abound, and there are plenty of other species, including a beautiful blue Atlas Cedar, a rare and fabulous Fern-Leaved Beech and, in the courtyard, a gorgeous yellow Gleditsia sits near a 100-year-old Kalmia.
Filling the numerous garden beds are hundreds of plant species, including Bergenia, Hosta, Euphorbia, Rose, Astelia, Hydrangea, Astrantia, Heuchera and Alstroemeria. Several plants – including Deutzia, Nandina, Star Jasmine and red Berberis – are clipped into spirals, pillars, balls or clouds. The wide variety of plants ensures year-round colour and interest in the gardens – from Hellebores in winter to Bluebells and Daffodils in spring, Jasmine and Lillies in summer, and the fiery red Maple and golden-orange Liquidambar leaves in autumn.
Omaka Lodge also offers several accommodation options, and can provide morning or afternoon tea by arrangement. We are open by appointment only; email or call us for more details.